Dashlane is one of the biggest names in password managers that store copies of your credentials.
Today, password managers are more like a basic requirement if you want to keep your account more secure.
The standard steps like frequent changing of passwords, not using the same combination on multiple platforms, and using an extended mix of letters, numbers and characters, are no longer
Unless you're a memory freak, there's no way of remembering all your passwords or login details without jotting them down someplace. You may want to save them in a spreadsheet, but for security reasons, this too won't hold, especially when you're away from your workspace.
Similarly, browser password managers don't offer the same security as password managers do.
With Dashlane, you not only enjoy cross-device syncing, but also the assurance that your creds are safe what with its patented security system.
This is broken down into user authentication and data ciphering.
The former refers to first-time login verification from new devices, and data ciphering explains how your passwords, personal and payment details are kept secure via ciphering keys.
However, not all password managers on the market are as secure as Dashlane. We'll look at some of the best secure Dashlane alternatives you can use in 2019.
Secure Dashlane Alternatives for 2019
There's quite a number of users that suggest that Keeper is a great Dashlane alternative and favorite password manager app.
It is easy to use, feature-packed, and highly secure.
Keeper uses a zero knowledge policy, meaning encryption and decryption happen on your device, not from their end.
It also applies the 256-bit AES security, and encrypts each individual password on its servers with two unique keys: a record key and data key, plus a client key for data that is at rest on your devices. It also offers up to 100,000 PBKDF2 iterations.
On its servers, Keeper only has a raw binary code, because all encryption happens on your side, and hackers won't find this useful unless they hack into your device as well.
This way, you're protected from snoops and sniffers, as it'd take almost forever for them to crack it.
Why we like it
Intuitive, cross-platform design
Ultra-secure
Easy installation
Browser extensions and mobile apps available
Clean interface
Customizable password creation
Multiple options for two-step identification like Keeper DNA and fingerprint scanners

This is the best budget, and secure Dashlane alternative, plus it enjoys massive popularity among password manager apps owing to the fact that you can use it for free across all devices.
But this is perhaps what attracts cyber criminals and hackers to it, what with the notable security incidents in its history on separate occasions, where suspicious network traffic was noted.
These incidents led the company to force all its users to change their master passwords.
But sometimes, such intense interest by cyber criminals and hackers works in their favor, as they've been able to identify and resolve any potential vulnerabilities before they blew out of proportion.
Today, its security features are among the most robust in the industry, so brute force attacks meted on it are almost impossible. Some of these features include the one-way salted hash, 256-bit AES encryption, SSL, and Paros, for more secure performance.
If you like top value for money, LastPass is the best Dashlane alternative to pick.
Why we like it
Easy to use
Excellent, ramped up security
Free
Checks security of well-known sites
Works on most devices
Spots duplicate and weak passwords
Good browser plugin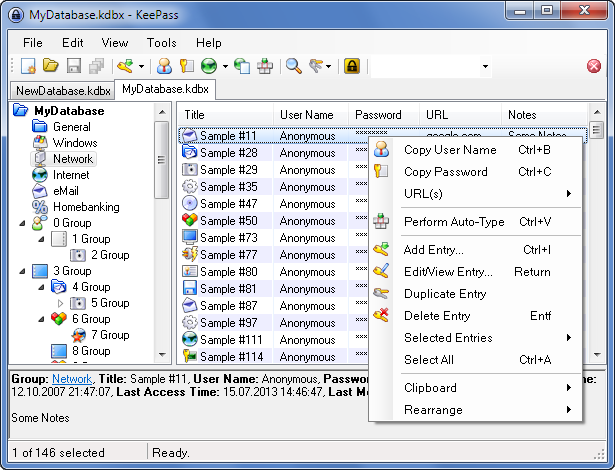 This is an open-source password manager that you can use as a Dashlane alternative. Instead of being cloud-based or multi-device like other tools here, KeePass saves your data locally on your device.
The benefit of this is that your data is safe from any hackers or cyber criminals trying to decrypt network traffic. However, you have to install its portable version if you want to go anywhere with your passwords.
And even if you do, without a USB port you cannot get your passwords on any device.
One of the unique features of KeePass is its ability to select a primary authentication method such as a key file or master password.
It offers a secure desktop against keylogging, Argon2 for password hashing, and SHA-256 to compress the composite master key.
Despite having such great security features, the app has over 100 plugins, whose safety you may not be able to verify, even if they let you do everything from automatic password capture to password syncing.
Why we like it
Best open-source password manager app
Free to download
Can run directly from USB without installation
Highly secure features like AES and Twofish encryption algorithms
Can be used by multiple users
Has variety of extensions
Runs on major web browsers
Mobile optinos for Android and iOS available through third-party developers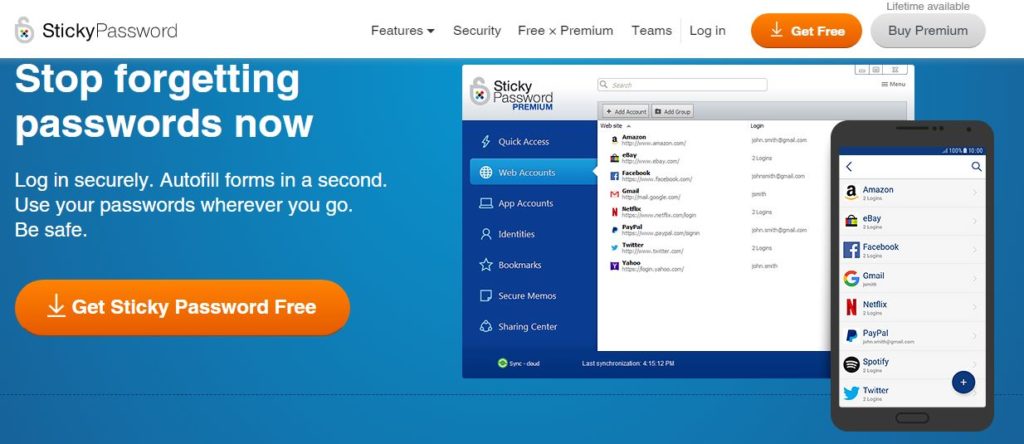 This company is one of the leading Dashlane alternatives and scores highly on various password manager reviews.
Among its best security features is its WiFi sync, which syncs your devices as long as they're on the same network, instead of syncing between devices on cloud servers. The latter would require you to key in an online and master password to access your vault.
Like other password manager apps, Sticky Password doesn't save your master password (which provides the basis for the encryption key), and sends all data over a 256-bit AES encrypted network.
It also offers a one-directional cryptographic hashing function when used with cryptographic salt.
Why we like it
Offers online Sticky account that securely stores your information in an encrypted state
Mobile version supports fingerprint authentication
Access from any browser
Supports major platforms
Do you have a favorite secure Dashlane alternative you use to manage your passwords? Tell us about its features and why you like it by leaving a comment below.