Your mobile device is your lifeline.
You use it for work and play, plus it carries loads of personal and sensitive information from your contacts, calendar, photo album, and digital wallet.
But what would happen if it gets in the wrong hands, or gets infected by malware?
Why You Need an Antivirus App on Your Android
Android OS is the most popular in the industry, which makes it a major target for malware.
Google Play Store also doesn't offer a stringent approval process, which only adds to the danger of bogus apps constantly finding their way to the store.
Additionally, with Android you can install APK files, some of which could be infected by malware and viruses created by hackers. This isn't the case with Apple devices that allows downloads only from the iOS App Store, thus protects its users from phony apps.
So you do need to have the best security and antivirus apps installed for your Android device to stay protected, always.
We've highlighted the best antivirus apps for your Android device in 2019, which actively work to prevent malware from being opened or downloaded via malicious web pages or files.
If you'd like your brand added to this buyer's guide, email your request to [email protected] with the specific URL of the guide as the subject line.
Best Android Antivirus Apps for 2019
Some useful features to look out for as you decide on one of these antivirus apps for Android include anti-theft, call blocking, app manager, backup facilities, and remote locking or wiping.
McAfee Mobile Security
McAfee has a reputation in the antivirus and security software industry and is among the top players.
Its award-winning antivirus app features Active Protection technology that scans deep into apps, files, and your SD card to keep your device clean and free of infection.
An extensive set of anti-theft features like a device tracker that locates it on a map, remote locking, back up and wiping are available for added protection. It can even take a photo of the thief using Thief Cam in case your device is stolen.
A unique feature is the Wi-Fi Guard VPN with 256-bit bank-grade VPN encryption that protects your activities online, and Ad Tracker blocking that prevents ads being generated from other downloaded apps.
In case some apps are leaking sensitive data and information, its data leakage policing scans them and locks them if need be.
It also blocks access to risky and potentially malicious links in emails, QR codes, texts, social networking sites, or websites.
Other features include anti-spyware, SMS filter, and blacklist of blocked calls.
A free version (ad supported) is available for download, and a premium version that lets you receive phone support and remove ads.
Kaspersky Mobile Antivirus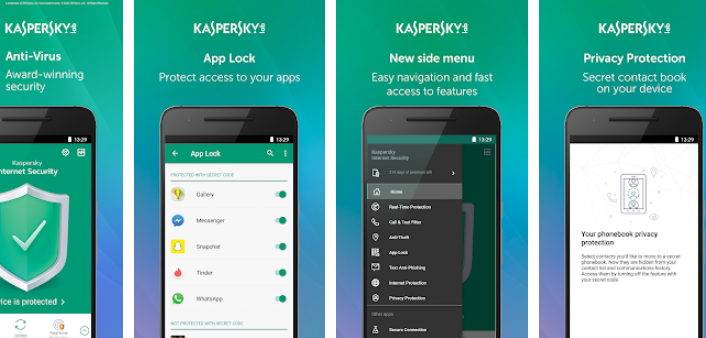 Kaspersky is known for its top-notch malware detection and preventing infections by trying to block malicious links or websites, before you click through to them.
Its free antivirus app for Android is feature-rich, with a malware detection rate of about 99.9 percent based on independent antivirus test trials.
The paid app offers extra features like anti-phishing, automatic scan, text and call filtering.
Bitdefender Antivirus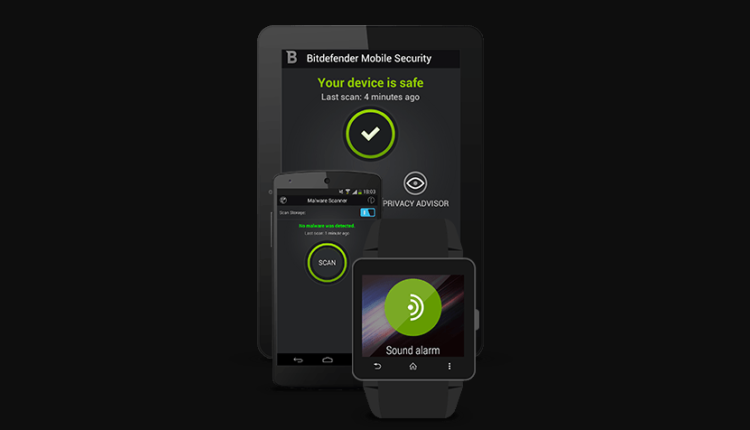 Bitdefender's antivirus app for Android is lightweight and easy to set up as it doesn't require additional configuration once installed.
It also saves on battery life as it doesn't run in the background. This means you'd have to manually run or schedule virus scans to stay safe, but any new apps you download will be scanned automatically.
The app is available for free, but you can sign up for a 14-day free trial for extra security.
Also included with the trial are features like basic antivirus, anti-theft features, and real-time protection for Chrome browser.
If you have a smartwatch, you can use the Privacy advisor tool's WearOn technology for added security. Other smart features are the Phone Alert and Scream, which warn you if you're too far from your device, or left it somewhere and can't remember the exact spot.
Just ping your device using Android Wear, and it'll scream even if it's on silent.
Avast Mobile Security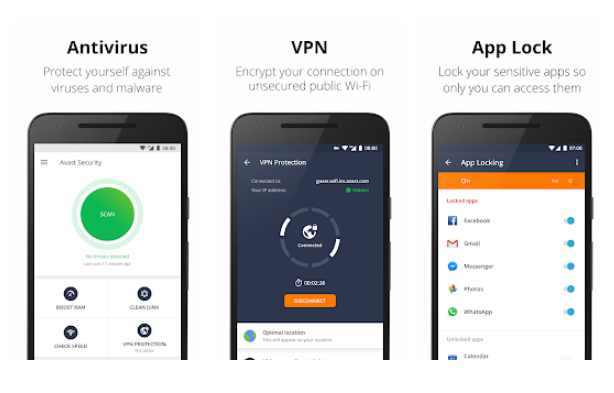 Avast is an antivirus dynamo, and its Mobile Security app, available for free, secures your mobile device while protecting your privacy and keeping intruders out.
The app blocks all potential threat by performing regular scans, and detects malicious apps before they're installed. It also protects your device against malware-infected links on the internet, and verifies security of any WiFi network.
Getting nuisance calls? Avast allows you to block any unwanted calls and spam.
Upgrade to the Pro or Ultimate version to access premium features like app locking, secret capture of photos and audio of the thief if your device is stolen, RAM boost, and a built-in VPN.
Trend Micro Mobile Security & Antivirus
This Android antivirus app offers comprehensive protection for your digital privacy and multiple devices.
Its features block dangerous website, manages and encrypts passwords using the Password Manager which stores your first 5 passwords for free, and guards against identity theft.
There's also a nifty built-in privacy scanner that warns you if your Facebook, Twitter, and LinkedIn profile settings are displaying personal and sensitive information.
You can download it for free or buy the paid version that has premium features such as malware blocker, call and text filtering, and safe surfing utilities.
Which antivirus app do you use for your Android device? Tell us in the comments below.