With the launch of Google's much coveted Android Oreo just around the corner, it's important to consider which devices will actually get updated to it. While many companies were more than willing to jump on the Android Oreo bandwagon when the project was first revealed earlier this month, it seems that now some are retracting those claims. So if you thought your phone was getting an Android Oreo update, it still might, but it's best to double check and see if that is still happening.
One company that seems to now go back on its word is Motorola. It seems that Motorola has silently removed the Moto G4 from the Android Oreo update list, although after the phone's launch it was boasting it to be eligible for updating to Android O (as the project was then known by the general audience). This claims was right there on the promotional posters for the Moto G4. But now Motorola seems to have silently and secretly changed those posters. Now they state that the Moto G5 comes with an Android N upgrade and that's about it. No further word on the possibility to be updated to Android O.
Weird, right? But don't take our word for it. Here are two images of the two slightly different Moto G4 promotional posters for you to peruse. You will immediately notice the claim missing right at the end of the promotional text: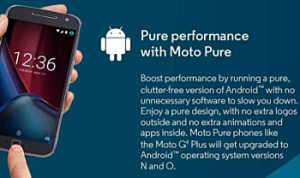 It's crystal clear, right there at the end. While the initial poster for the Moto G4 that launched roughly 18 months ago clearly claimed that the device will indeed get update to Android O once it comes out this year, now it seems that Motorola is going back on its word. What do you think about this? Let us know in the comments below.